Financial Advisor – A need in today's day and age.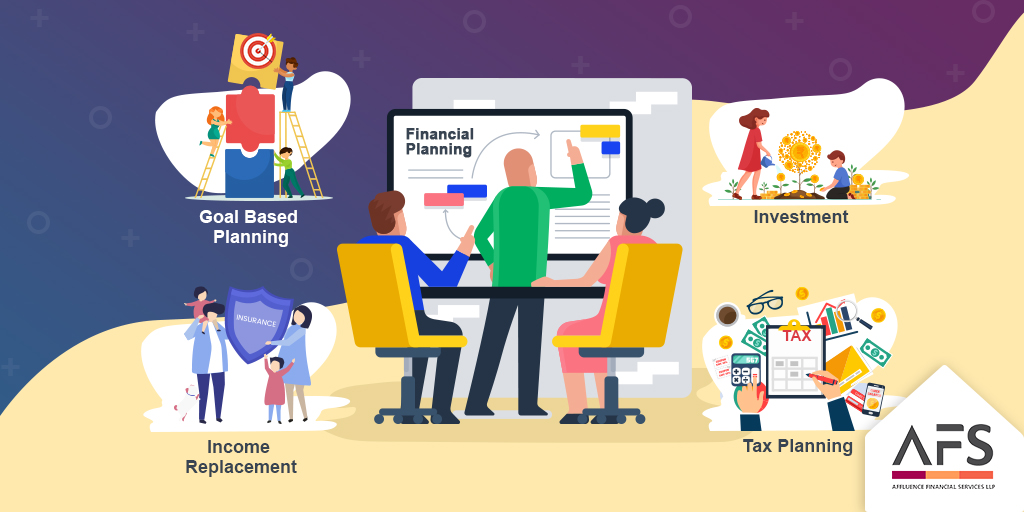 A financial advisor, consultant or planner develops a plan which helps you to be ready for each financial step in your life.
Who is a financial advisor or consultant ?
Planning is very crucial part of our lives, so when it comes to money why be so careless?
When people need any kind of advice they always rely upon the experts. So, why not rely on an expert when it comes to money as well?
Planning the expenses for day to day life might take a toll on you, so how much stress it might cause to plan for goals which are to be achieved in maybe 25 years from now.
A financial advisor or consultant is someone who analyzes your current financial situation and help you figure out your goals and prepare a plan to achieve them.
Preparing a plan might sound very easy but there's a lot of thinking and evaluation of the current and the future situation that goes into preparing a plan.
Financial advisor makes things easy for you by preparing a financial plan and developing strategies to achieve a financially stable and stress free lifestyle.
Why is financial planning important? Why do you need a financial advisor ?
What if someone wants to retire early?
In this case you need to have a specific retirement corpus with which you want to retire.
Financial advisor will help you understand what retirement corpus you should accumulate when you retire and how much is to be invested from now on to achieve that corpus. He/ she will even guide you on which type of investments are to be made which will help you create the required corpus.

Financial Planning is needed to prepare a gateway to build a better future.

- What if you are the only working person in the family and you lose your job?
- Do you have enough income replacement options to cover you and your family?
- What about personal financial planning ?
- How do you plan to repay all your debts?
- Is your insurance cover enough to cover your family in case you meet with any kind of uncertainty?
Such questions might shock you but this is the harsh reality. When you face such uncertainties you usually dig into your savings.
Don't you think preparing ourselves for such uncertainties are better than digging into your savings?
Financial advisors or planners not only help you achieve goals but also help you prepare for the uncertainties you might come across while achieving those goals.
DIFFERENT ASPECTS OF FINANCIAL PLANNING AND ANALYSIS
Goal Based Planning: This is nothing but evaluating an individuals goals and preparing a plan to achieve it. For e.g: retirement planning, child's education, Estate planning, etc
Income replacement: Involves safeguarding a person against uncertainties by providing an alternate income source during unfortunate events. It involves; evaluating which all types of insurance you need, creating emergency funds
Investment: There are various options but how do you decide which one is suitable for us. A financial planner evaluates your risk appetite, motive of investment, period of investment and then suggests an investment product
Tax Planning: Tax planning helps save tax and rather invest that money to create wealth
Each aspect of financial planning involves deep knowledge and understanding which financial planners gain from years of experience.
FINANCIAL PLANNING PROCESS
There are four phases in a individual's life -
Age range from 0 years to 20 years: In this phase you usually complete your education
20 Years to 40 years: In this phase you start earning and plan to settle down, have kids, buy a house
40 years to 60 years: In this phase you have to look after kids education, buy a house, buy a car, and start life planning for the kids
60 years to 80 years: In this phase you retire and have no source of income
In the first phase and the last phase you do not earn, you just earn in the phase where you are in the age range from 20 years to 60 years , thus earning phase is the most important phase of your lives.
An individual is surrounded by different kinds of fears all through your lives.
Biggest fears may include -
If anything happens to you, what about your family?
What if you are unable to work till 60 years?
Will you be able to provide the best education for your children?
How sure are you that you will enjoy your retirement life?
What retirement corpus should you retire with?
The solution to all your fears is Wealth Management i.e. Wealth Creation and Wealth Preservation.
Wealth creation: This means creating wealth for yourselves to ensure that you fulfill our goals such as for your dream retirement, for your child's education, holiday etc.
Wealth preservation: This includes income replacement options and life insurance products which helps to solve the problems wherein people worry about their dependents in case something happens to them.
Thus Financial Planning works from identifying a person's financial needs to his/her goals and from creating wealth to preserving wealth.
Financial advisory services and insurance
- What will happen if the only working member of the family dies?
- What income replacement options do you have to protect your family against financial crisis?
Financial Planning is not only about goal based planning, it is more than that. Wealth creation is a process which takes years, but what if any uncertain events occurs during this period;chances that you may turn towards your savings. All your savings and investment plans goes for a toss.

Thus, protection plans and income replacement plan safeguards you from such uncertain events and ensure that you have other income source which won't affect your savings.
Why is insurance part of financial advisory services?
Insurance amount can be a financial aid for the family incase of unfortunate death of the breadwinner of the family
Maturity value of your policy will provide financial assistance during retired life
Insurance products takes your debts into consideration, so insurance proceeds will help you repay off your debts
A healthy person of the age 30 years can get a cover of 1 crore by paying a premium of Rs.10,030
Financial advisor or planner always prefer protection plans over investment plans.
Protection plans include income replacement options, and life insurance. Only after protecting ourselves you should think about creating wealth. A financial consultant may help you pick the correct insurance policies.
There are certain points and tips to consider before picking any health insurance, life insurance or any other type of insurance for that matter.
A person should not contribute more than 5% to 7% of their monthly savings to such income replacement plans.
Suppose if a person has a salary of Rs.40,000 per month, then at least he/she should spend Rs.2000 for insurance.  
An earning person should have a life cover of at least 10 to 15 times of his/her annual salary. This cover act as income replacement for the family in case something happens to the earning person.
If the earning individual is married and planning a baby then taking maternity insurance policy is vital and can save from burning the pockets.
Protecting oneself and family should be one's priority over creating wealth.
How does a financial planner or financial advisory services help you?
Helps you understand your current financial position
You learn to evaluate your life goals and prioritize them
You can protect and grow your investments in tax efficient way
Helps you to protect your family from uncertain events
You can ensure to live a stress free life post retirement life
You can leave behind an estate for your future generation
To cut a long story short, financial planning is not just about money, it is also about protecting yourself as well as your family, achieving your goals and leading a life with financial freedom.
Don't think financial planning or advisory services is just for rich people, it is for everyone who wants to achieve their goals as well as wants to safeguard themselves and their families.